Test Equipment
Test equipment available in our labs is available for various measurement and characterization situations. Much of the equipment was purchased, but some is made available through the Equipment Loan Program of the Canadian Microelectronics Corporation (CMC).
Device and Low Frequency Circuit Characterization
HP4140 pA Meter/DC Voltage Source
HP4280 1MHz C Meter/C-V Plotter
HP4145 Semiconductor Parameter Analyzer
HP4155 Semiconductor Parameter Analyzer
Low Frequency CV probe station
HP577 Curve Tracer
Sony/Tektronix 371 High Power Curve Tracer
HP8591E Spectrum Analyzer (available under CMC's Equipment Loan Program)
Audio Precision System-Two
Wentworth Probe Station
Teledyne TAC PR-53 Semiautomatic Probe Station
Keithley 7001 Switch System
Keithley 616 Digital Electrometer
Statham Temperature Controlled Chamber
Tektronix and HP Oscilloscopes, power supplies, function generators, and frequency counters
Digital and mixed-signal Testing (Low Frequency)
IMS-XL/60 (60MHz) (available under CMC's Equipment Loan Program)
HP DICE system (50MHz), including

HP8180 Data Generator
HP8181 Data Generator Extender
HP8182 Data Analyzer
HP15414 Tristate Unit

TH1000 Mixed-signal IC Test Head (available under CMC's Equipment Loan Program)
High-frequency measurements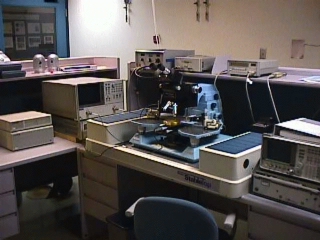 HP8720B Network Analyzer
HP6626 System DC Power Supply
HP8347 RF Amplifier
HP437 Power Meter
HP8563 Spectrum Analyzer
Colby SG8000A Signal Generator
Colby PG3000A Pulse Generator
Tektronix 11801 Digital Sampling Oscilloscope
Wentworth Probe Station
Cascade Microtech High-frequency Probes
HP70000 system, including

HP70000 mainframe
HP70004 display
HP70322 Synthesized Signal Generator
HP70841 Pattern Generator

HP53131A 225MHz Universal Counter, with additional 3GHz RF Input Channel
VXI
All VXI (VMEbus EXtensions for Instrumentation) instrumentation is available under CMC's Equipment Loan Program.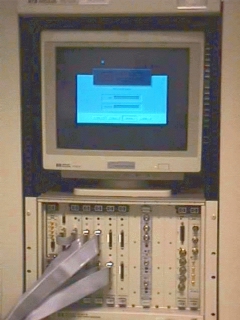 HP9000/745i Controller, including HP VEEtest virtual-engineering environment software, and HP75000 D20 Digital Test Software
CMC Test Head
HP E1401A C-Size Mainframe, with 12 slots
HP E1406A HP75000 Series C Command Module
HP E1450A HP75000 Series 160MHz Timing Module (quantity: 2)
HP E1451A HP75000 Series Pattern I/O Module (quantity: 3)
HP E1452A HP75000 Series Terminating Pattern I/O Module
Analogic DBS8750 High Precision Arbitrary Waveform Synthesizer
HP E1445A HP75000 Series Arbitrary Waveform Generator
HP E1430A HP75000 Series C 10 MSa/s ADC+Filter+FIFO (A/D converter)
---

Return to UofT VRG home page

Comments to webmaster@vrg.utoronto.ca
---
http://www.vrg.utoronto.ca/vrg/facility/testequip.html -- Last updated: December 2001